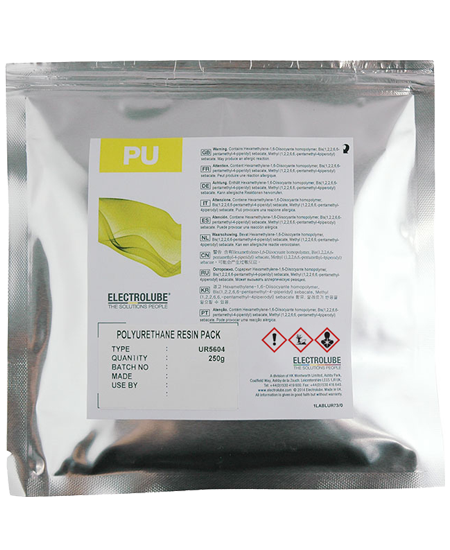 UR5604
General Purpose Polyurethane Potting Compound
High performance polyurethane potting and encapsulation resin for general use. It's a good all round resin suitable for a huge range of applications.
Product Codes
100g Resin Pack - UR5604RP100G
250g Resin Pack - UR5604RP250
500g Resin Pack - UR5604RP500G
5kg Kit - UR5604K5K
25kg Kit - UR5604K25K
Product Description
UR5604 general purpose polyurethane potting compound is a two part, potting and encapsulation resin. It's a good all round resin suitable for a huge range of electronic applications offering high performance protection from the environment.
It maintains good flexibility, even at low temperatures, while its low viscosity once mixed makes the potting process quick and efficient.  Available in a variety of pack sizes it is suitable for hand mixing for small scale  production or prototyping and also in bulk for an automated application process.
UR5604 is flame retardant to UL94 V-0 offering protection in the harshest of environments.
For more information please refer to the TDS, our technical support team are also on hand to discuss your application requirements further.
Key properties
General purpose polyurethane resin
UL94 V-0 approved
Good flexibility even at low temperatures
Low mixed system viscosity
Excellent adhesion to a wide variety of substrates
RoHS Compliant