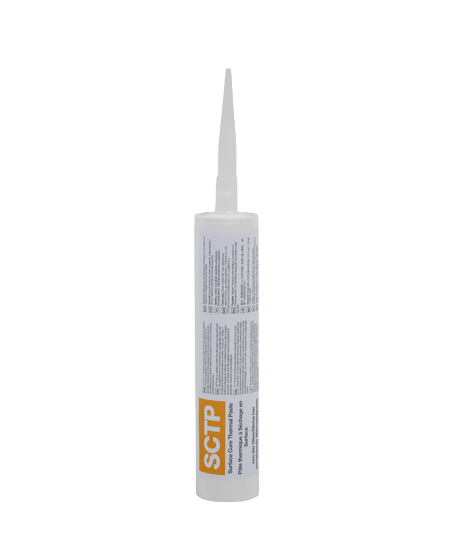 SCTP
Surface Cure Thermal Paste
Specially designed thermal interface material to resist pump out. SCTP has high thermal stability and is thermal shock resistant.
Product Codes
SCTP310ML - 310ml Cartridge

Product Description
SCTP Surface Cure Thermal Paste is a thermal interface material for use where the efficient thermal coupling of electrical components is required. It is specially designed to resist pumping out from the bond line and can be applied using industrial dispensing equipment or via screen/stencil printing techniques.
SCTP has high thermal stability, even through extensive thermal cycling making it an excellent choice in applications which undergo wide shifts in temperature.
As a surface cure material, only the exposed surfaces cure creating a skin while the main bulk of material remains soft enabling rework of components if required.
SCTP is an ideal choice for high performance applications such as those found in the automotive or aerospace industries.
As with all thermal interface materials, we would always encourage stringent testing before selecting a material for your application. For further information please refer to the product TDS, or get in touch with our Technical Support Team who are always on hand to 'Talk Solutions'
Key properties
Pump-out resistant
High thermal stability
Ideal for applications with rapid temperature cycling
Solvent-free, efficient application
Low thermal resistance
Non-setting; allows simple/efficient rework of components